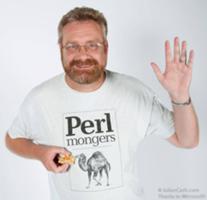 Talks
Information
English
For many years a Perl Bioinformatics programmer in Philadelphia for a major pharma company helping scientists load, process, analyze and view their data. Now building surveys so your HR department knows what you think.

Keeper of the lighting talks gong.

Geoff really should get a life and go to fewer conferences:
OSCON 1999,2001,2004,2007-11,2013-14
PerlWhirl 1-2
YAPC::NA/TPC::NA 1999-2018
YAPC::EU/TPC::EU 2002-11,2013-18
PittsburghPW 2006-08, 2010-11, 2013-15
FrozenPerl 2010
DC-BaltimorePW 2012-16
= 191 days

This only counts conferences where Perl is the topic or a major track.
Attending talks
Other Act conferences: