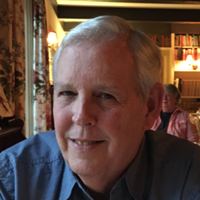 Information
English
Born 1943-12-31, Sandersville, Georgia, USA. Dad was in USAF. I attended 15 schools in grades 1-12 in Georgia, Florida, Virginia, Mississippi, Colorado, and New York. Graduated from HS in 1961 and entered the USAF Academy. Graduated in 1965 as a 2Lt in the USAF. Graduated as a pilot from Moody AFB, Georgia, in 1966. Flew as a fighter pilot (F-4C/D/E, F-111F, AT-38B) and staff officer with assignments in the US, Japan, South Korea, United Kingdom, and the Netherlands. Retired from the USAF in 1987. Worked for defense contractors (as a vulnerability analyst) from 1988 through retirement in January 2016.

I have used Perl since 1993 both professionally and as an open source contributor (particularly with <http://brlcad.org>). I'm now active as a beginning Perl 6 contributor (tbrowder).

I particularly enjoy writing Perl code that writes code, including auto-generation of C++ classes, Perl code, and PostScript and RTF documents.
Attending talks
Other Act conferences: